It was a sunny Wednesday afternoon in Ft. Lauderdale Florida when the New York Redbulls played against the Chicago Fire. Everyone who is anyone in the soccer world was there, but due to mis-communication between the Red Bulls front office and Lockhart personnel, some of them had just a little trouble getting in the door. Here's a rundown:
Eventually got in-
Fernando Clavijo - Director of soccer, Ft. Lauderdale Strikers
The Hall of fame soccer player and Strikers Director of Soccer was reported to have needed to wait for clearance to enter the stadium after the not so knowledgeable staff member refused his entry. Reliable sources say he was waiting about 20 minutes for his entry.
Martyn Lancaster - Defender, Ft Lauderdale Strikers
After about 5 minutes of waiting, he was allowed to enter Lockhart stadium (His home pitch) only under the Supervision of Miguel Lopez.
Couldn't Leave:
Bryan Arguez - Midfielder, Ft. Lauderdale Strikers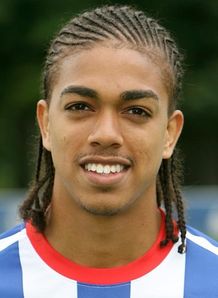 After waiting for a minute or two, another fan and I tried to help him squeeze through a locked gate. He was unsuccessful, however the fan had better luck squeezing through to sneak in.
No Reentry:
This list will get extensive, so Ill make it brief. The bus driver for the Fire was stuck outside after going to get lunch. Thomas Rongen brought some friends to the game, and were stuck outside after taking a brief trip to their car. A players agent of an unnamed Strikers player left his phone in the car... Oops.
DENIED:
Kyle "Trainwreck" Kaly - Blogger/Hooligan, Miami Ultras
The ONLY Ultra to be repeatedly thrown out of games was not even given a chance to get in.
Kartik Krishnaiyer - NASL Representative
Being friends with the PR Director for the Chicago Fire apparently didn't play out as well as hoped today when the security brought up that it was the Red Bull's call.
This seems to be a common issue with the "Mecca" of U.S. Soccer, Lockhart Stadium. HOWEVER, further issues will be addressed and fixed so HOPEFULLY this will never happen again.